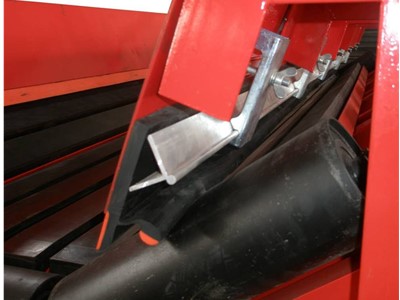 Beltcare Solution is committed to being your reliable one-stop for all conveyor requirements, so we keep developing the whole range of conveyor maintenance products such as Impact Bar, Skirt Rubber, Cleaner, Wear Liner, Belt Repair kits, and other conveyor accessories. We are also distributing  TRS Adhesive & Solvent.
 The impact bar is mainly designed for large heavy bulk material and is suitable for conveyor equipment under extreme working conditions, it has characteristics of High Wear Resistant, shock-absorbing, easy to replace, and is mainly used to protect the belt from damage, shorten downtime and improve productivity.
Belt cleaning tools include pre-cleaner, secondary cleaner, spray bar, and cleaning box. Each method is effectively used for different purposes. choosing the qualified equipment to solve the carrying problem
The other conveyor belt accessories such as Belt Repair Kits, Cold Vulcanizing Adhesive, Rubber skirt, scraper, belt fasten, etc are controlled to be consistently excellent quality.
Application
1. Impact bar can point for a conveyor belt blanking shock protection, prevent conveyor crushing, scratching and tearing. Use it with conveyor belt skirt board , which have good sealing effect between guide chutes and conveyor belt.
2. FA Repair strip is suitable for the repair of damages in belt covers or damage to rubber components, for filling of gaps and joints in rubber lining and lagging, applied with FA compound master extrude gun.
3. The other conveyor belt accessories such as Skirt board used for the seal between belt conveyor and chute. Cold vulcanizing adhesive used to bond rubber to rubber, rubber to metal, rubber to fabric, fabric to fabric; each kinds repair tools, belt fastens are all used for conveyor system. All kinds conveyor belt accessories are important complement for bulk material handling & conveying.