Conveyor Belt Vulcanizing Service
Conveyor belt vulcanizing services mainly refer to cold vulcanizing repair and hot vulcanising 

We offer expertise in a range of cold vulcanizing repair materials  and hot vulcanizing splicing material

Cold Vulcanizing can be done in several different ways i.e. cold bond repair, vulcanising, and mechanical fasteners, to suit the client's needs.

Hot Vulcanizing services include Hot splice, hot vulcanizing repair

 Hot and Cold vulcanising suits various types of conveyor belting including rubber, steel cord,  Fabric, PVC, etc
Cold Vulcanizing Repair Solution
Easy to operate and fast construction

Highly bonding strength, high wear-resistant

Suitable for conveyor belt repair includes longitudinal breaches, damaged topcoats of the belt, or bond rubber to rubber, bond rubber to the metal surface.

Used for the emergency repair of all types of conveyor belts( including Steel Cord, Fabric Nylon, etc).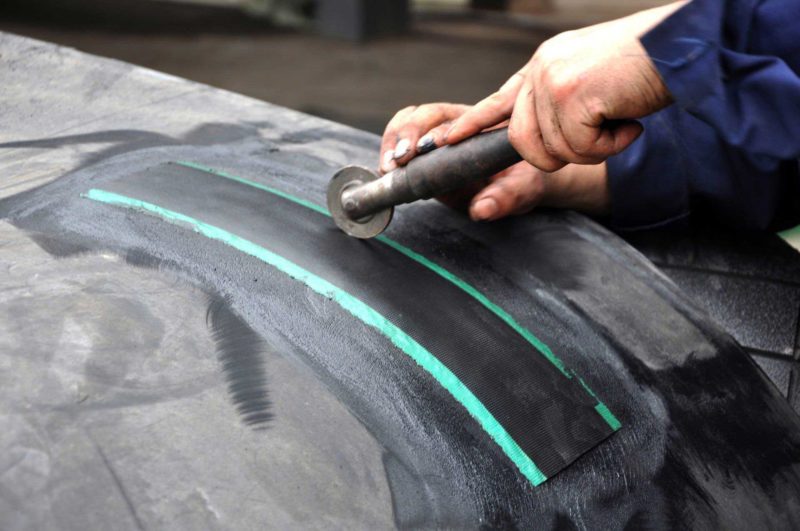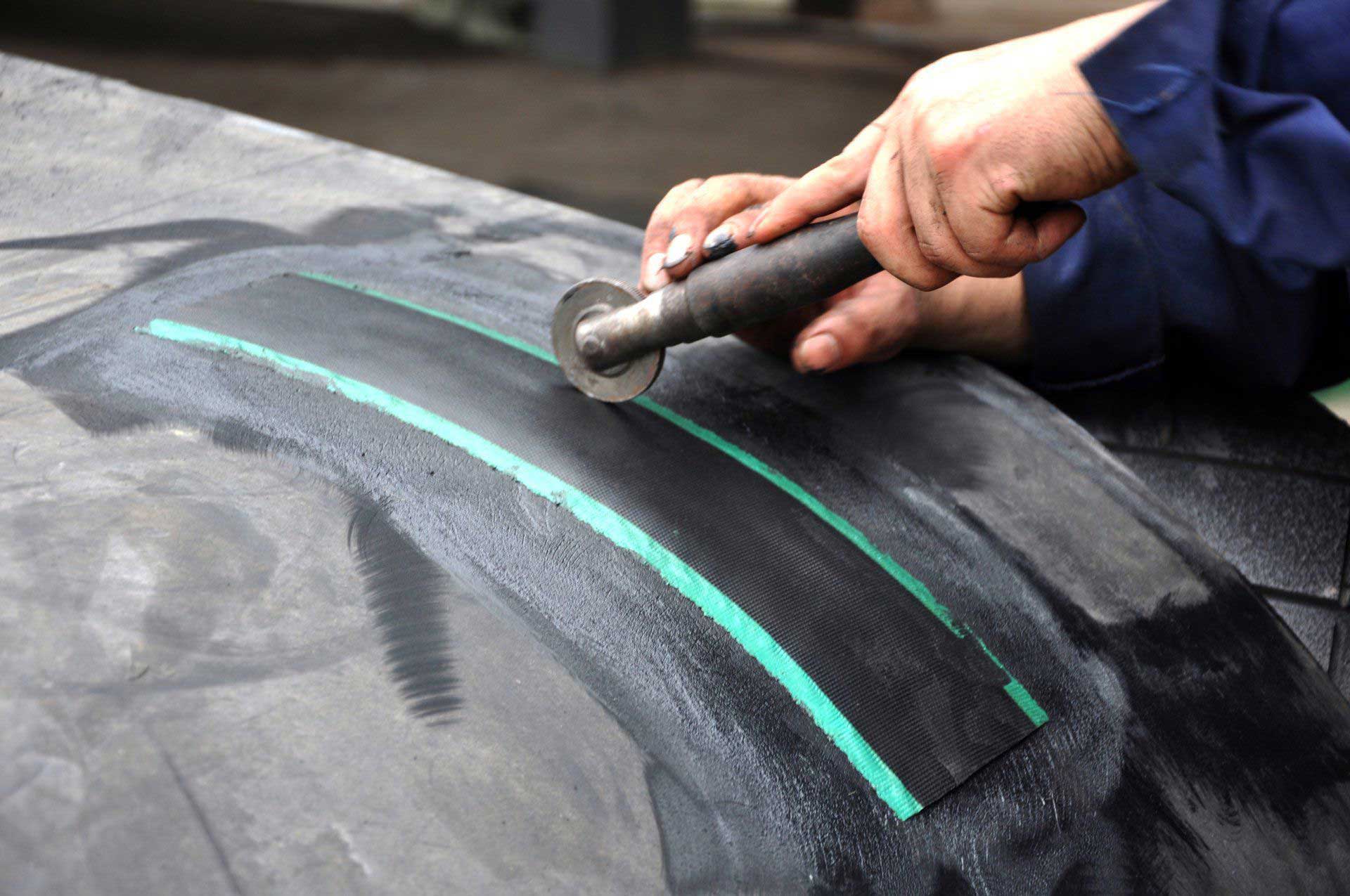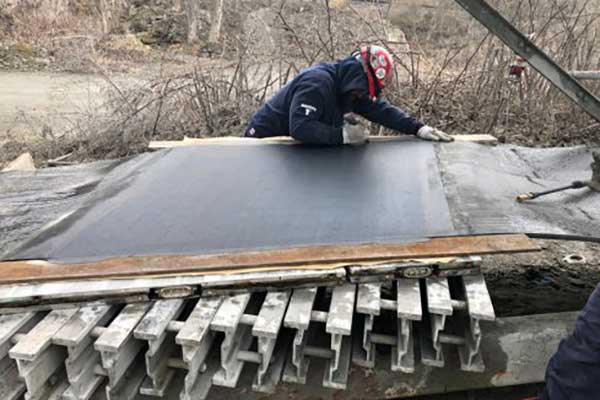 Hot Vulcanizing Splicing Solution
The Belt splices process strictly comply the length of splicing steps and try best to minimize allowable loss of belt strength in the area of splicing.

High-grade quality hot splicing material and a skilled operator are important for the hot vulcanization process

Our hot splicing materials for vulcanizing guarantee superb adhesion. They have excellent operational reliability, which ensures the constant availability of conveyor belt systems.

Best Hot Vulcanizing Solution ensures the highest utilization factor and the longest lifespan of the conveyor belt in highly demanding applications.
Featured Conveyor Belt Vulcanizing Materials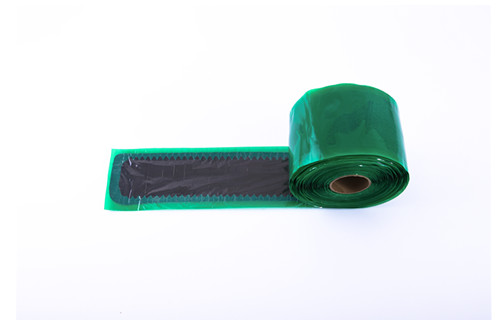 Standard Conveyor Belt Repair Strip
All our Rubber Repair Strips (Patches) bonding strength reach or exceed  8Mpa.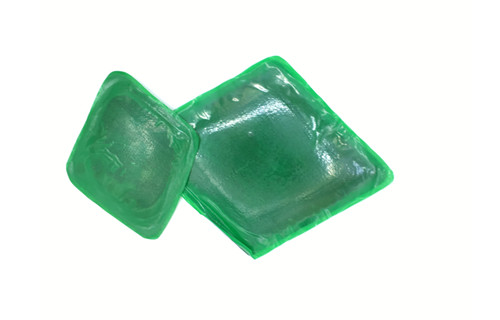 Reinforced Diamond Repair Patch
Reinforced Diamond Repair Patches are mainly used for maximum puncture resistance.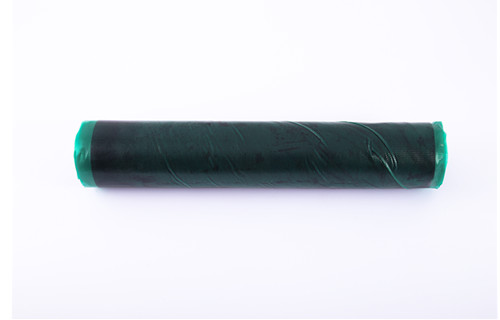 Uncured Top Cover Rubber Sheet (Top Cover)
Uncured Top Rubber Sheet(Cover Stock) is an uncured rubber for hot vulcanized belt splicing.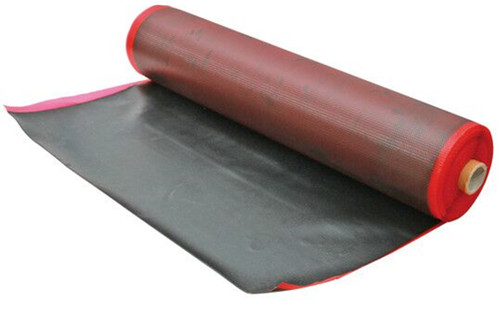 Uncured Intermediate Rubber (Skim Rubber)
Uncured Intermediate Rubber is designed to bond to cured cover rubber in all standard grades of steel cord and fabric conveyor belts














Conveyor Belt Vulcanizing – Definitive Guide
During the bulk material conveying of the belt, various damages may occur due to material dumping, falls. Such as longitudinal tearing, edge damage, gouged, deep punctured, and so on. Replacing the conveyor belt will be a huge cost, so people find the method of conveyor belt vulcanizing to repair the damaged conveyor belt.
What is Conveyor Belt Vulcanizing?
Conveyor belt vulcanizing is a common method of repair conveyor belts that use physical or chemical ways to join repair materials with compromised sections of the belt. It can greatly reduce the maintenance cost, extend the lifetime of your conveyor belt system. By reducing the conveyor downtime, it can improve production efficiency.
Types of conveyor belt vulcanizing?
Conveyor belt vulcanizing can be divided into cold vulcanizing and hot vulcanizing. The cold vulcanizing splicing is fast and high efficiency, but it is only used for the emergency joint of common nylon and canvas conveyor belts. Hot vulcanizing can repair the damaged conveyor belt to its former strength, offering reduced corrosion and increased life. These two vulcanizing methods work for different conveyor belt damages and have different advantages.
Cold Vulcanizing
Cold vulcanizing is to use vulcanized material such as patches and strips to repair a conveyor belt. It doesn't use a press but uses a bonding agent like TRS cold adhesive, which causes a chemical reaction to splice the two belt ends together. Cold vulcanization allows you to finish your vulcanization at ambient temperature.



You can often see it on conveyor belt jointing, pulley lagging, conveyor belt repair. Different from hot vulcanization, cold vulcanization allows your conveyor only 2-3 hours of downtime, which greatly reduces the maintenance cost and improves the production efficiency. In conveyor maintenance, cold vulcanization is a perfect solution for emergency conveyor belt repair, it suitable for conveyor belt repair includes longitudinal breaches, damaged topcoats, damaged edges of the belt, or bonding rubber to steel surface too.
Hot Vulcanizing
Hot vulcanizing is a method of repair that uses both heat, time, and pressure to re-splice a belt. Hot vulcanizing allows the damaged belt to its former strength, offering reduced corrosion and increased life. The hot vulcanizing procedures offer added durability that other methods lack and extend the longevity of a belt.
As it creates the highest return to original belt strength, it is ideal for splicing, cuts or tears, holes, or breakdowns between steel cords and fabric. It can be executed in dusty environments and is suitable for all types of belts with varying widths and thickness.



As the conveyor belt starts to use, it is necessary to bond two ends of the belt through splicing operation initially. Meanwhile, if the belt is worn and broken during use, it needs to trim broken parts and produce new jointing for splicing. A conveyor belt splice needs to make several times during the entire using life, hot Splicing is the best operation for conveyor belt jointing.